Ashley MacIsaac - Maritime Tour Thursday December 2 2021 at 7:00 PM AST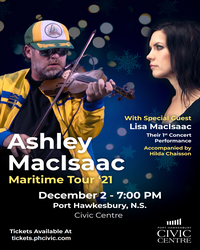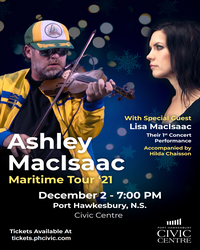 You've selected
Thursday December 2 2021 at 7:00 PM AST
×
Coming off a sold-out concert in Lunenburg, Nova Scotia in September, a rejuvenated and energized Ashley MacIsaac is planning his Maritime Tour 21' and is excited to perform on the edge of The Atlantic, in his own backyard at The Port Hawkesbury Civic Centre in Cape Breton, on December 2, 2021 at 7:00 pm for a two-hour performance. For the 1st time ever, Ashley will invite his sister, Lisa MacIsaac from the Juno nominated singer-songwriting duo, Madison Violet to the stage at The Port Hawkesbury Civic Centre and for his entire Maritime Tour. Long-time friend Hilda Chiasson will be joining Ashley and Lisa and bringing her superb musicianship and beautiful arrangements to the performance! A renowned fiddle player, piano player, and step dancer, Ashley MacIsaac has performed in the Opening ceremonies at the Vancouver 2010 Winter Olympics to a worldwide audience and with artistssuch as Phillip Glass and The Chieftains. Ashley also played with The White Stripes for their "Under Great White Northern Lights" Canadian tour which was turned into a documentary. So impressed by Ashley's electric performance and love of bending genres, Jack White has invited him to co-write and perform with him on a country blues song for Jack's new label based in Nashville. "It's always been a pleasure to play in Port Hawkesbury," says Ashley MacIsaac (he/him). "With decades of fabulous and memorable shows in the rich area of Cape Breton, growing up and where I started my career, audiences have a keen ear and I always try my best when I'm there to play the best show I can. Thirty-plus years later I'm just as excited to play my CB fiddle tunes for an audience that I know will tap their toes and clap their hands as we enjoy the evening and the concert."
Current Nova Scotia Public Health Covid-19 protocols will be in effect.
Venue
Bear Head Conference Room
606 Reeves Street
Port Hawkesbury NS B9A 2R7
×
This is a general admission performance - the seats are on a first come, first serve basis when you arrive at the venue.
Doors open 1/2 hour prior to start of performance.