Minglewood's 75th Birthday Saturday February 12 2022 at 8:00 PM AST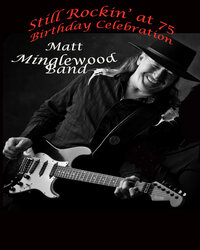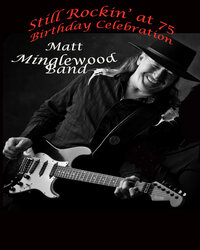 You've selected
Saturday February 12 2022 at 8:00 PM AST
×
Matt Minglewood – genre – Northern Rock with a Canadianna feel, a musical hybrid with one foot steeped in the musical roots of blues & country and the other knee-deep in rock. Matt has a milestone '75th Birthday ' coming up on January31st and is 'Still Rockin' The Blues at 75' We have an enthused fan base 'biting at the bit' so to speak to help him celebrate . Minglewood, known for his high octane shows will have you enjoying his brand of rock as it should be heard, wrenched from the heart and shot from the hip. For all music fans with a taste for the blues & rock, to witness this band is a feather in your cap. Joining Matt on stage is Moon McInnis on drums & vocals, the vivacious and extremely talented Emily Dingwall does the honors on bass and vocals, 21 year old Nick McInnis adds his immense talent on guitar and Jeff Stapleton tickling the keyboards & vocals. The youthfulness in the band has added a fiery spark to their shows.
Supported by 101.5 the Hawk, The Reporter and Maritime Inns
Venue
Bear Head Conference Room
606 Reeves Street
Port Hawkesbury NS B9A 2R7
×
This is a general admission performance - the seats are on a first come, first serve basis when you arrive at the venue.
Doors open 1/2 hour prior to start of performance.