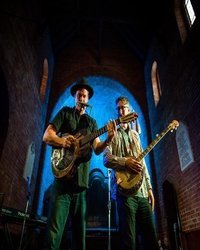 Gordie Tentrees & Jaxon Haldane
When
Occurs on Monday November 25 2019
Approximate running time: 2 hours
Venue
Event Notes
×
Gordie Tentrees & Jaxon Haldane
International touring award nominated Canadian Gordie Tentrees has
arrived. This road poet, multi-instrumentalist, and master storyteller
brings the unexpected to stages across North America, Europe,
Australia, UK & Ireland with 7records with legendary sideman Jaxon
Haldane. From Celtic Connections (Glasgow, Scotland) to the National
Folk Festival (Canberra, AU) his ability to hold an audience, weave
melody, while juggling the dark with the light is infectious.
Performed 750 concerts in 11 countries during the past 4 years
alonearmed with 10 instruments, brotherly harmonies and masterful
storytelling.